Managed Shared Subscription Detail Links: Share All Containers Within a BL or BN
Create a share link to a Subscription Detail page to share all containers within a given Bill of Lading (BL) or Booking Number (BN).
Share a Subscription Detail Page
Log in to the CTT Platform.
Open the container's Subscription Detail page.
Click the Share this subscription button.
To share

Click the mail icon to email a shared link to third party users through your email client.
Click the copy icon to copy the shared link to your clipboard.
Revoke Sharing
Click the Revoke sharing button to make any shared links invalid to third party users.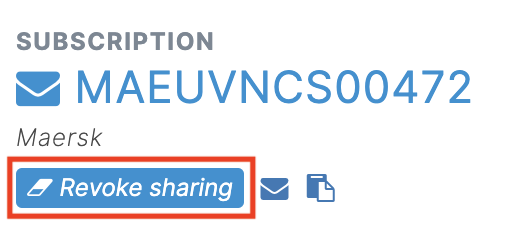 Renew Sharing
Click the Renew sharing button to allow sharing after sharing was revoked.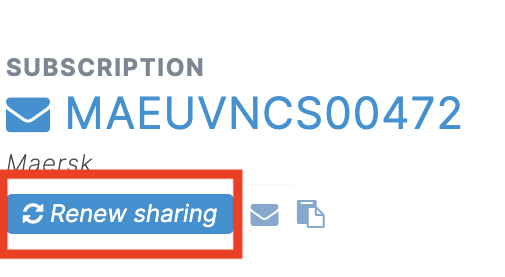 View and Manage Shared Links
Find an overview of all links shared with third party users in the Shared containers menu.
Click on your user icon in the top right.
Click Shared containers.
Find a list of shared links for containers and shipments. The most recently shared links will be at the top of the table. This table also includes:

The link's current sharing status (active, revoked, expired).
Who generated the shared link.
When the link was generated.

Toggle on the include expired parameter to include expired links in the table.
The icon to the left side of the reference numbers indicates whether the shared link relates to a single container

or to an entire subscription

.
With the "Container Sharing" feature, you can generate a special hyperlink that will give any person limited access to a specific container detail page without having to log in.
The same functionality is available on the subscription level, so you can provide 3rd parties with access to all containers that belong to a BL or Booking number.
How to share all Containers within a BL or Booking number
While being logged in to the web application, enter the Subscription Detail Page of the BL or Booking number you want to share. On the top left you fill find the "Share this shipment" button:

Upon click of the button, you can choose whether you want to share the link by email or copy it to your clipboard: When you select the envelope icon, your email client will be opened and you will see a pre-formulated text including the link to the Container Detail Page. When you select the clipboard icon instead, the Link to the Subscription Detail Page will be copied to your clipboard so you can paste it into any communication channel of your choice:

See and manage all Shared Links
To get an overview of all links that have been shared with 3rd parties, you can visit the menu "Shared containers":

This menu lists all shared shipments, indicating who generated the shared link, when it was generated and its current sharing status (active, revoked, expired). Most recently shared containers are on top of the table. The icon on the left side of the shipment reference numbers indicates, whether the shared link relates to a single container or to an entire subscription: