Using Exception Insights to Identify Network Problems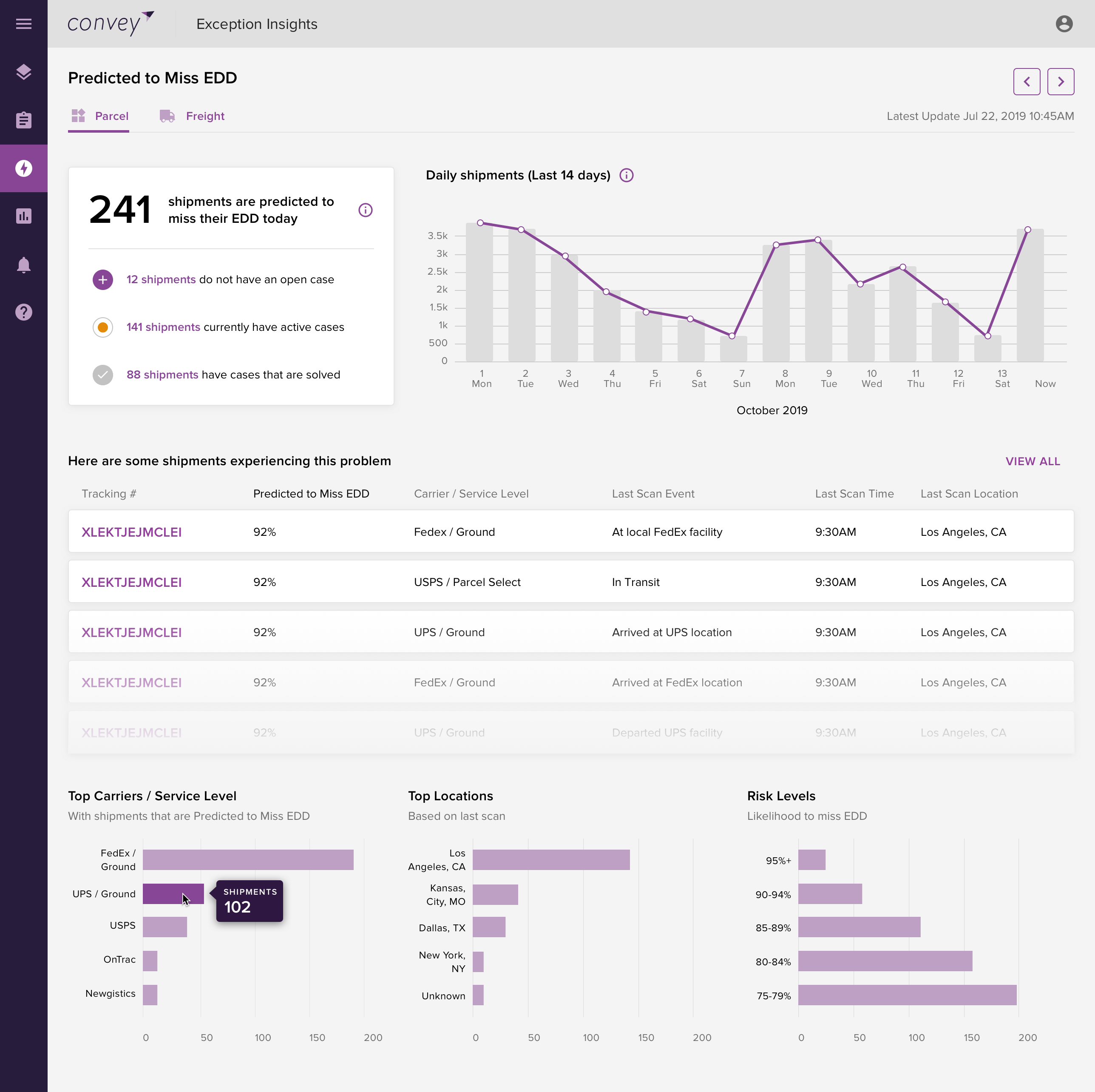 Here at Convey, we are building tools that reduce the effort to identify at-risk shipments by surfacing real-time, actionable insights to our customers. Resolving single-shipment issues is important, but understanding how that broader problem-type is affecting your network right now is integral to being a truly proactive organization.
What is it?
Exception Insights are upstream of the shipment and recovery workflows that your teams are managing today and can be used by care or logistics managers to:
Proactively identify large network problems before they escalate further

Be alerted when the size of a problem crosses your organization's threshold

Investigate the sources of your exceptions by carrier/service level and location in real-time

Better support your team in their efforts to exceed customer delivery expectations and resolve problems upstream

Exception Insights Types
Insights are available for the following exceptions. Find Insights in the left hand navigation under the lightning bolt.
Attempted Deliveries
Damages
Incorrect Addresses
Stalled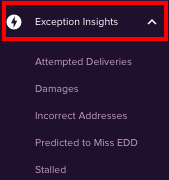 Insight Basics
Total Number of Shipments Affected
This number represents the total number of shipments experiencing the respective problem in your network right now. Use this number to understand scale.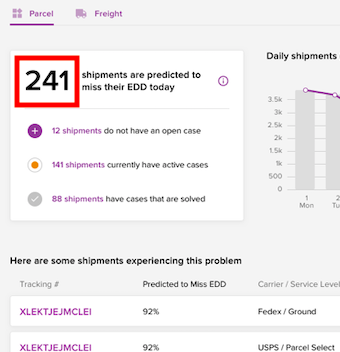 Accessing & Exporting Affected Shipments
To view example shipments that are currently experiencing this problem, click on the associated tracking number.
To view all of the shipments that are included in the total number, click "View All". From the results set, you can export all shipments or use filters to further refine the list.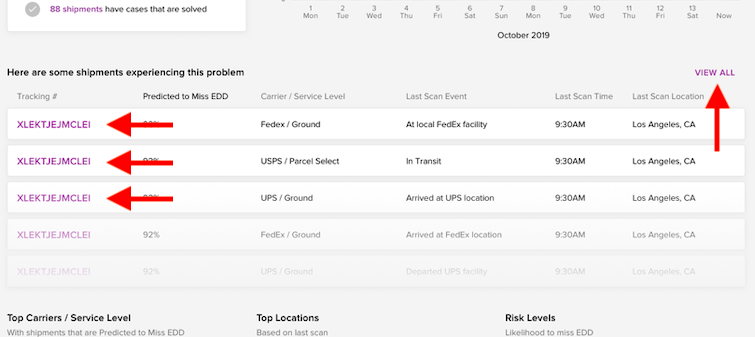 14 Day Comparison
The graph at the top should be used to understand how many shipments experienced this problem over the last two weeks. At a glance, you can compare the number of exceptions that are affecting your network right now to how many of these exceptions your organization typically has in a day.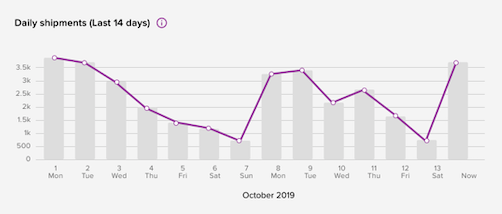 Breakdown by Carrier, Location & Severity
The graphs at the bottom of the page give you more granular context into the larger problem. Click through any value to filter shipments experiencing this exception type by carrier/service level, location and severity (limited to 5.)

Carrier/Service Level
The number of shipments with this exception, broken down by carrier/service level. Use this graph to gauge whether one is experiencing this problem more acutely than the others. Communicate with your carrier(s) if this number is not consistent with typical volume trends.
Location
Quickly identify which locations are experiencing a higher concentration of this problem. Clicking through will provide you with a list of shipments that share a last known scan location. Communicate with your carrier(s) about locations that have a high number of affected shipments.
Severity Level
This graph is different per exception type (detail below.) Use the breakdowns to isolate shipments that may require customer communication to avoid or resolve delivery problems.
Insight by Mode (for multi-mode networks only)
Use the toggle at the top of the page to view the respective Exception Insight for either parcel shipments or LTL/White Glove shipments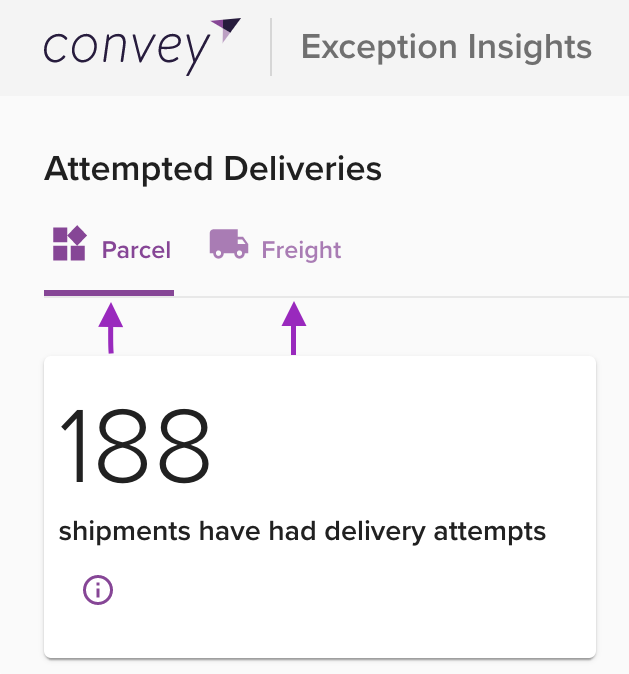 Configuring an Exception Insights Alert
No need to monitor your screen 24/7. Exception Insights will let you know when a problem gets big. Configure an email to be sent to you and your team when the volume of a given exception type passes your organization's size threshold. Use this alert to be aware of when action may need to be taken.
Navigate to Admin Settings > Exception Insights Alerts to enable this notification.
Give your alert a name. Example: Damaged Parcel > 200
Select the exception type that you want to monitor. Example: Damages
Select the mode. Example: Parcel
Click Continue
Use the next page to get a sense for typical volume and to set the threshold.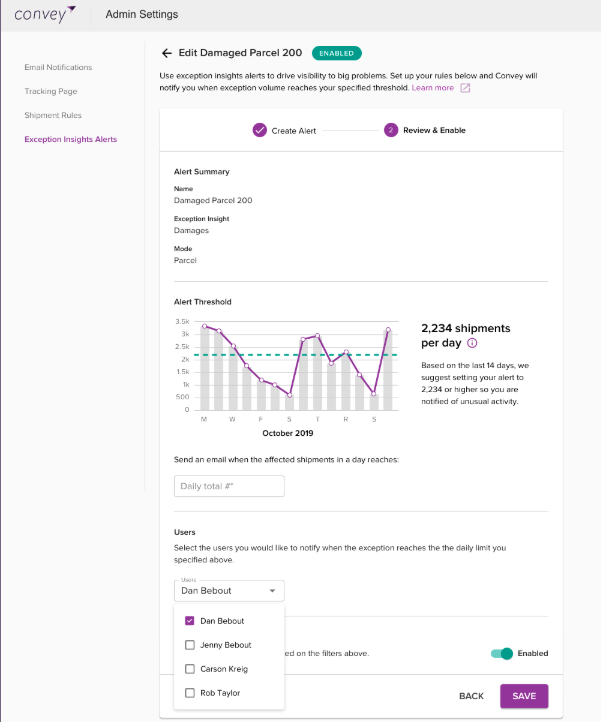 Use the graph and the accompanying suggestion to set your threshold at number that is most valuable based on typical volume.
Enter a number (daily total value)
Select users to be alerted when this number is reached (must be Convey account holders.)
Click Save.
Multiple alerts can be set up for any of the 5 available Exception Insights.
An email will be sent once every 24 hours that the exception type volume is over your stated threshold.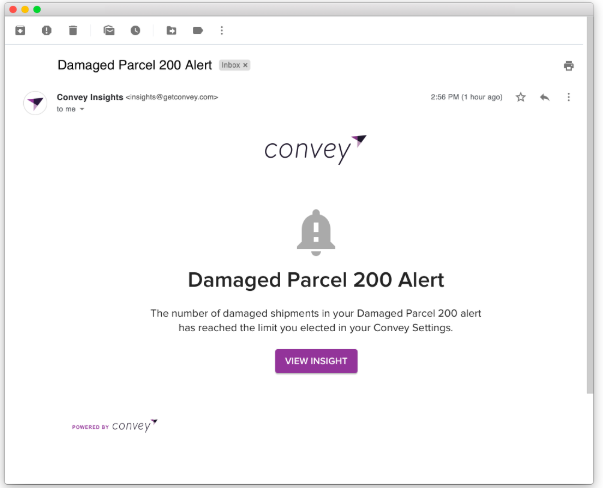 Exception-specific Insight Detail
Attempted Deliveries
Damages
Incorrect Address
Predicted to Miss EDD
Stalled