To view the carriers on your network, click the Carriers tab.
The Carriers page appears.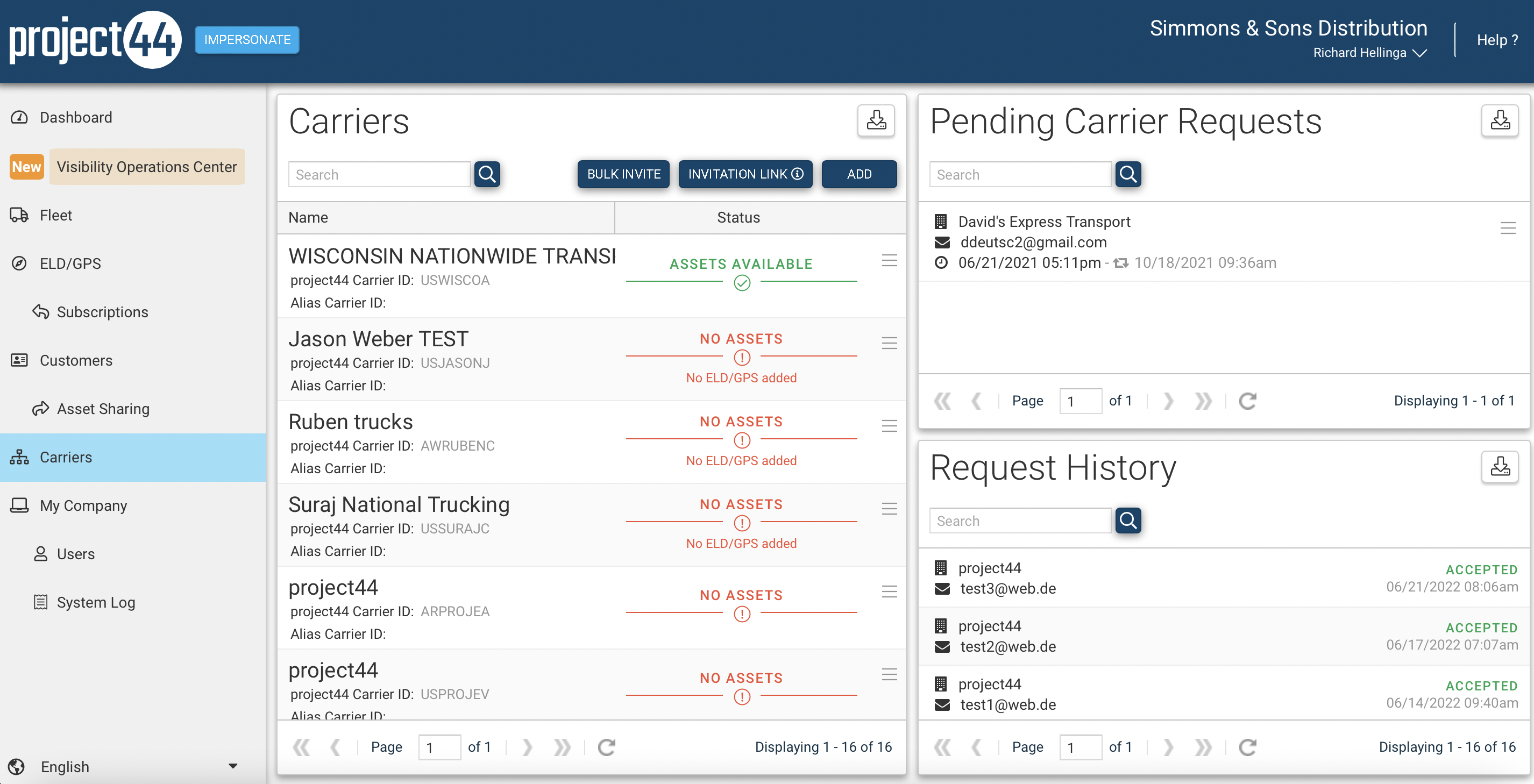 There are three sections.
Carriers: List of carriers and their current status. You can search the list via the Search field. You can also add a carrier or invite multiple carriers at a time. The table below describes the statuses.

| Status | Meaning | Suggested Action |
| --- | --- | --- |
| ASSETS AVAILABLE | Carrier has added a working GPS connection to their fleet and their assets are available in the NMC. | This status means that the carrier has at least one asset available. You can use the license plate check function to validate if all license plates needed for collaboration have been integrated. |
| NO ASSETS – NO ELD/GPS ADDED | Carrier has registered in NMC but has not yet added a GPS connection. | Contact the carrier to ensure they give access to all needed vehicles. |
| NO ASSETS – ELD/GPS NOT WORKING | Carrier has tried to add a GPS connection. | We will investigate and instruct the carrier how to proceed. No action needed. |
| NO ASSETS – CARRIER UNRESPONSIVE | Carrier has not finished their NMC integration and did not respond to our support. | Contact the carrier to discuss their willingness to integrate. |
| P44 DEVELOPMENT | Carrier is using a GPS system that needs to be integrated but device driver development is needed. | We are working on integration with the GPS system, no action needed. |

Pending Carrier Requests: List of pending carrier requests. Includes the name of the carrier, the contact email address, and the date the invitation was sent.

Request History: List of accepted, cancelled, and declined invitations from carriers showing the name, the contact email address, and the date it was accepted, cancelled, or declined.
Tip
Each section contains an Export button in the upper-right corner. Click this to download the data from that section in Microsoft Excel format.

On this page you can: