To sign in to the NMC, on the NMC project44 Login page type the email address associated with your account in the Login field. Then click the NEXT button. Type your password and click SIGN IN.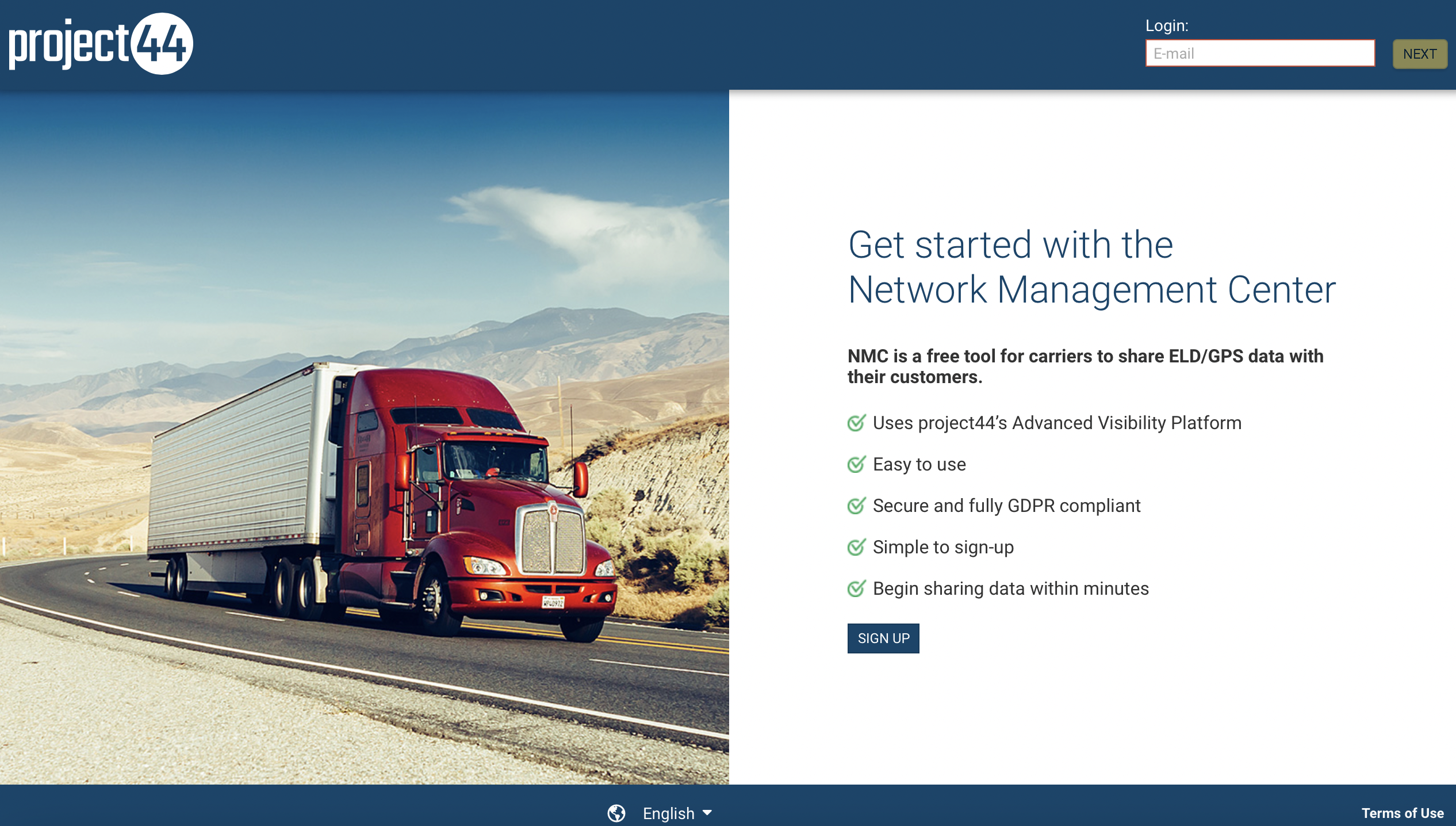 The NMC Dashboard appears.
The NMC Dashboard provides the ability to add fleets and carriers, and manage those connections. Depending on your account, your dashboard will look one of two ways.
With sections to register ELD/GPS connections and connect carriers.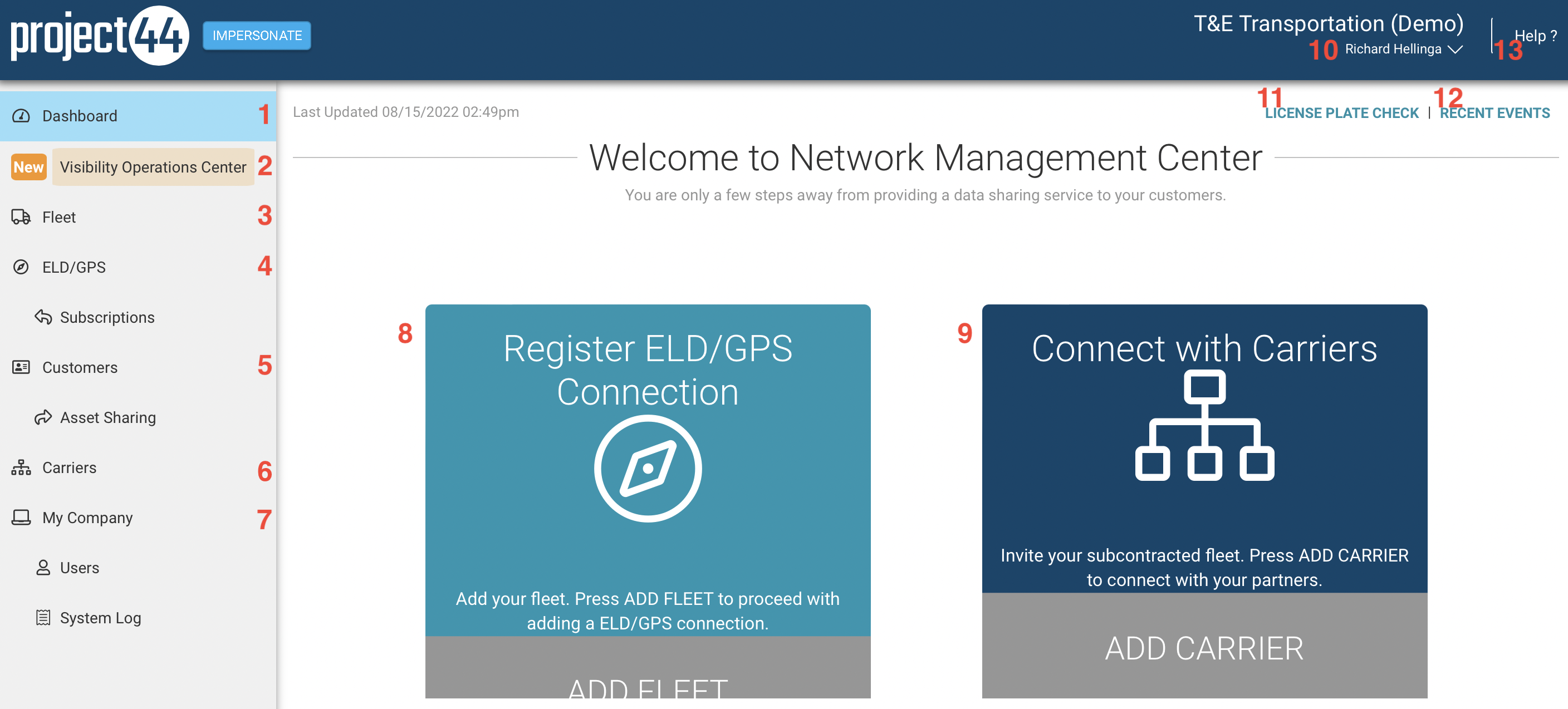 Or with sections showing the status of your current carriers.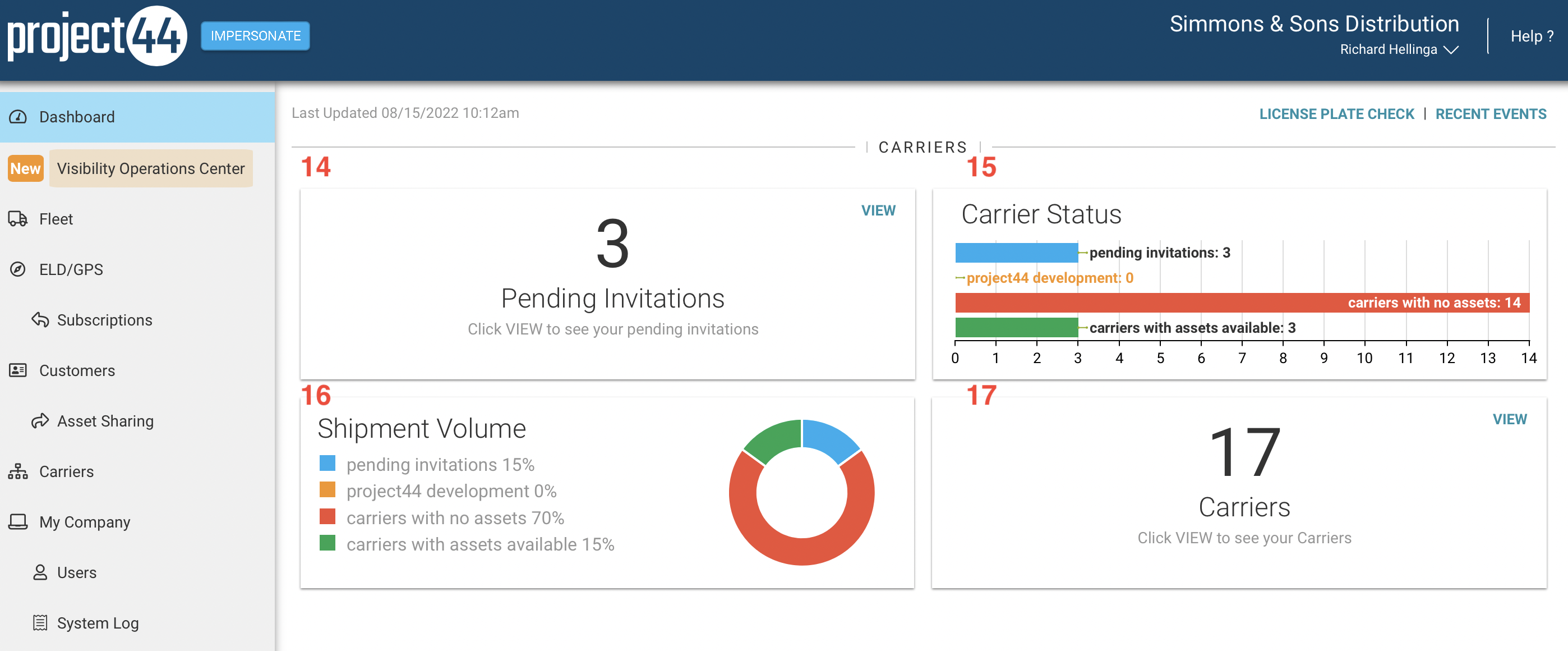 The table below contains descriptions of the functions of each part of the dashboard.
Table 1. NMC Dashboard Functions
Number

Tab/Function

Description

1

Dashboard

When working in other areas of the NMC, click this to return to the Dashboard.

2

Visibility Operations Center

Click this tab to open the Visibility Operations Center (VOC) and Carrier VOC (CVOC).

3

Fleet

Click this tab to open the Fleet Overview page. This page enables you to view assets shared with project44.

NOTE: In North America, not all ELD providers are eligible for this dashboard.

4

ELD/GPS

Click this tab to open the ELD/GPS page which shows the status of the data connection for each account.

5

Customers

Click this tab to view the customers and pending customer requests.

6

Carriers

Click this tab to view the carriers. You can invite carriers from this page. You can find the invitation link here which is shareable with subcontractors if you want to bring them on board.

7

My Company

Click this tab to manage your company's data, get an invitation link, and download documents such as the "Terms of use," "Services agreement," or Data processing agreement."

The Users subtab enables you to add, edit, and delete users from your account.

8

Register ELD/GPS Connection

Click ADD FLEET to add a your fleet with an ELD/GPS connection.

9

Connect with Carriers

Click ADD CARRIER to add a carrier to your net work.

NOTE: This only applies to the EU.

10

Name

The name of the current user. Click the name to open a drop-down list to either view the user profile or sign out.

11

License Plate Check (EU only)

Click LICENSE PLATE CHECK to check the status of one or more license plates in your own fleet and subcontractors.

12

Recent Events

Click RECENT EVENTS to see a list of the events (invitations sent, invitations accepted, etc.) that occurred during the last 30 days.

13

Help?

Opens the Helpdesk panel. Search here for help using the NMC.

14

Pending Invitations

Shows the current number of invitations sent to carriers whose acceptance is pending.

15

Carrier Status

Bar chart that displays the number of carriers with pending invitations, under project44 development, without assets, and with available assets.

16

Shipment Volume

Shows the volume of pending invitations, project44 development, carriers with no assets, and carriers with assets available as overall percentages.

17

Carriers

Shows the number of carriers. Click VIEW to open Carriers page and view the carriers in your network.