Submitting a Feature Request
Convey wants to hear and understand any new ideas you have for our products. This article will guide you through the process of submitting new product ideas and communicating the impact of these changes for your business.
Why is collecting feature requests important to Convey?
We want you to be heard about what will make the product more useful to you.
The Product team uses this data to guide roadmap and prioritize the features that will be most valuable to our users.
The Product team wants direct access to ask you questions about your requests.
We want our users want to see what their peers are requesting to get ideas, and build community among our amazing customer-base.
If we know which features you want, we can quickly notify you when a particular request been added to our roadmap and then launched.
How do I submit a new feature request?
The Convey Feature Requests Board is where all new product suggestions are submitted. You can find a link to this board in the Convey application in the top menu bar under the help icon. Click the Send feedback link.

You will need to be logged into the application to submit a request. After you are logged in, you will begin the process by filling out the Create A Post form on the Feature Requests Board. As you begin filling out the form, similar posts will be displayed. If a similar post exists, please add feedback to the existing one and/or add an upvote. This will help us prioritize new feature requests more effectively.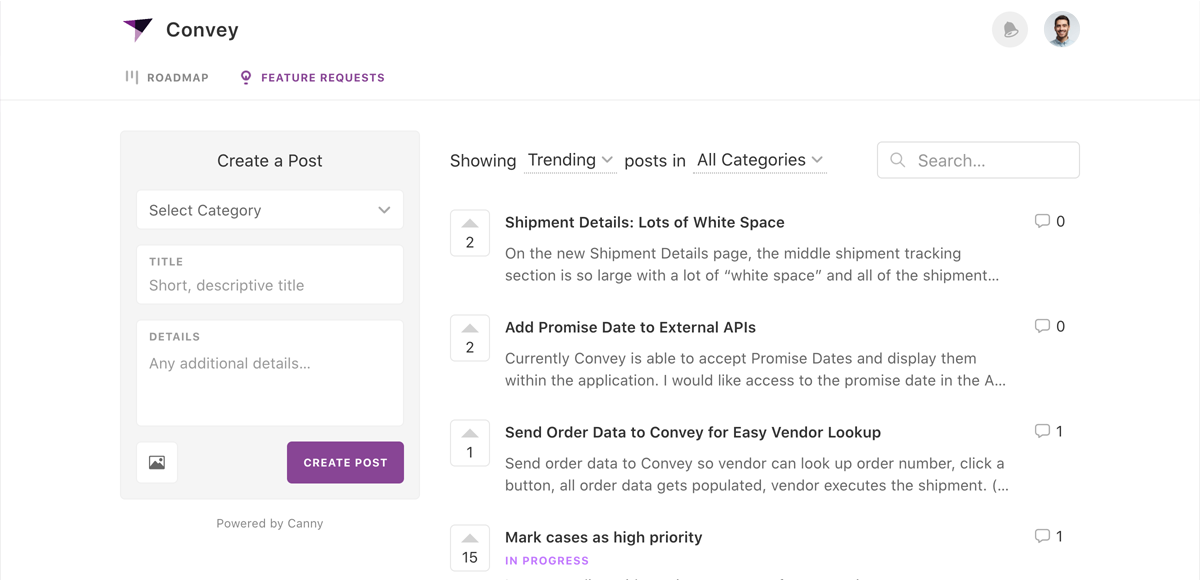 Please provide as much detail as possible about the problem this solves for your business, how you do this today, and any solution ideas you may have. If you are not able to provide specific details (e.g. financial impact, confidential information, etc.) please reach out to your Convey Client Partner. In turn they will provide this information to our Product team when evaluating your request.
After submitting your request, your submission will be in an Open status. You can expect a final disposition for your submission within four weeks. If you have any questions, comments, or concerns please reach out to your Convey Enterprise Account Director or support@getconvey.com.
Feature Request Statuses Defined
Open: New feature request that has not been assigned to a Product Manager for disposition
Under Review: A Product Manager is researching and working on a disposition
Unplanned: No work planned for to solve for this feature request
Planned: Prioritized for an upcoming cycle
In Progress: In development
Complete:

Done!

Closed: Won't do for the foreseeable future
We look forward to hearing about all of your great ideas.